Roll over image to zoom in
Click to open expanded view
1080P Wireless CCTV IP Camera Cloud Wifi Camera Auto Tracking Home Security
$29.55 (-29%)
Order Now, You will Save
$8.4698231925
SKU:
80201002-720P-UK
| | |
| --- | --- |
| Type | Surveillance Camera |
| Model | Camera |
| Maximum Resolution | 1920×1080 |
| Material | Plastic |
| Color | White |
| Features | Automatic Motion Tracking, Night Vision, Wi-Fi, Zoom, IP Intercom, Motion/PIR Activated, Wall Mounted |
| Power Source | Wall Plug-In |
| Plug | UK Plug |
New 1080P Wireless CCTV IP Camera Cloud Wifi Camera Auto Tracking Home Security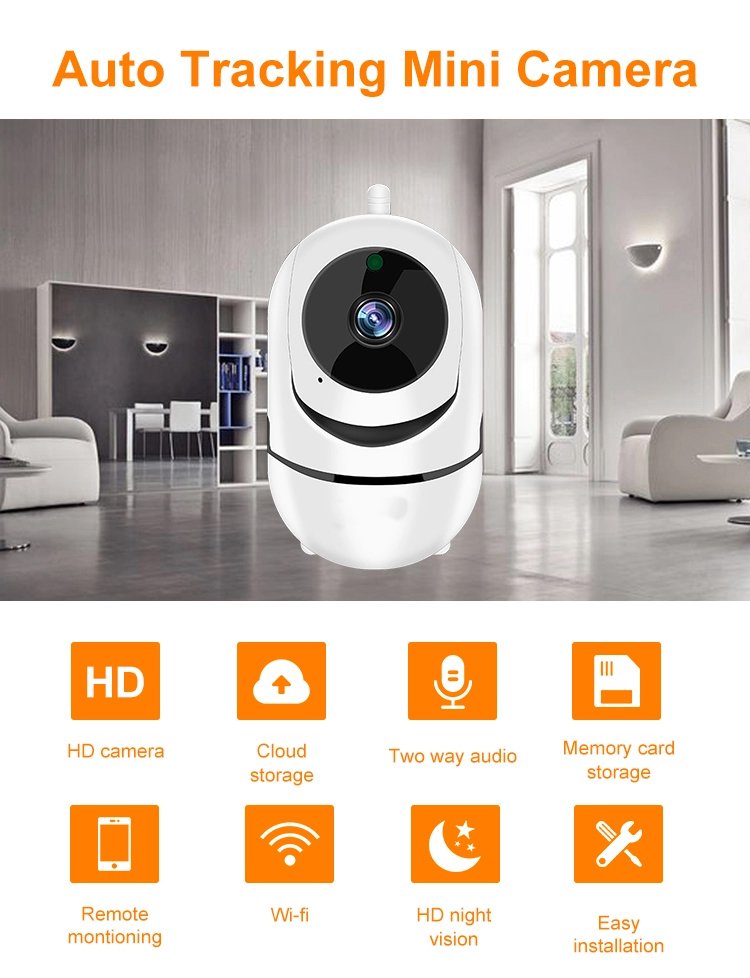 Properties:
Easy installation and stable WIFI connection – Easy and fast installation with stable 2.4 GHz WIFI. Follow the steps in the app manual. The app is compatible with iOS and Android devices (not only for iPhone / Android / iPad, but also for the PC). This allows you to remotely monitor every corner of your home 24 hours a day.
FHD 1080P Image Quality and IR Night Vision – The surveillance camera with a resolution of 1280 * 1080P delivers a vivid and exceptional image. The built-in infrared LED night vision system provides a visibility of up to 10 meters in the dark night and protects your children, your house or your pets during the day or at night.
Remote APP Monitoring and Two-Way Audio – With the APP, you can remotely monitor your home in real-time. A built-in microphone and speaker for simultaneous speaking and listening. Even at a distance of thousands of miles you can see your home and talk to families. The built-in noise canceling microphone for a clear 2-way audio experience.
Motion detection and alarm – The surveillance camera supports a micro SD card (128GB max.). It can detect movement and send alarm notifications to your mobile phone to prevent intrusion. And the WIFI camera automatically records videos with the SD card and you can watch the video playback in the APP.
360 degree panoramic image – You can use this WiFi camera as a pet / baby monitor to monitor your pet / baby. The camera has a tilt angle of 355 degrees and a tilt angle of 90 degrees, giving a full viewing angle of 360 degrees. No blind zone, you just have to click to see where you want on the panoramic screen.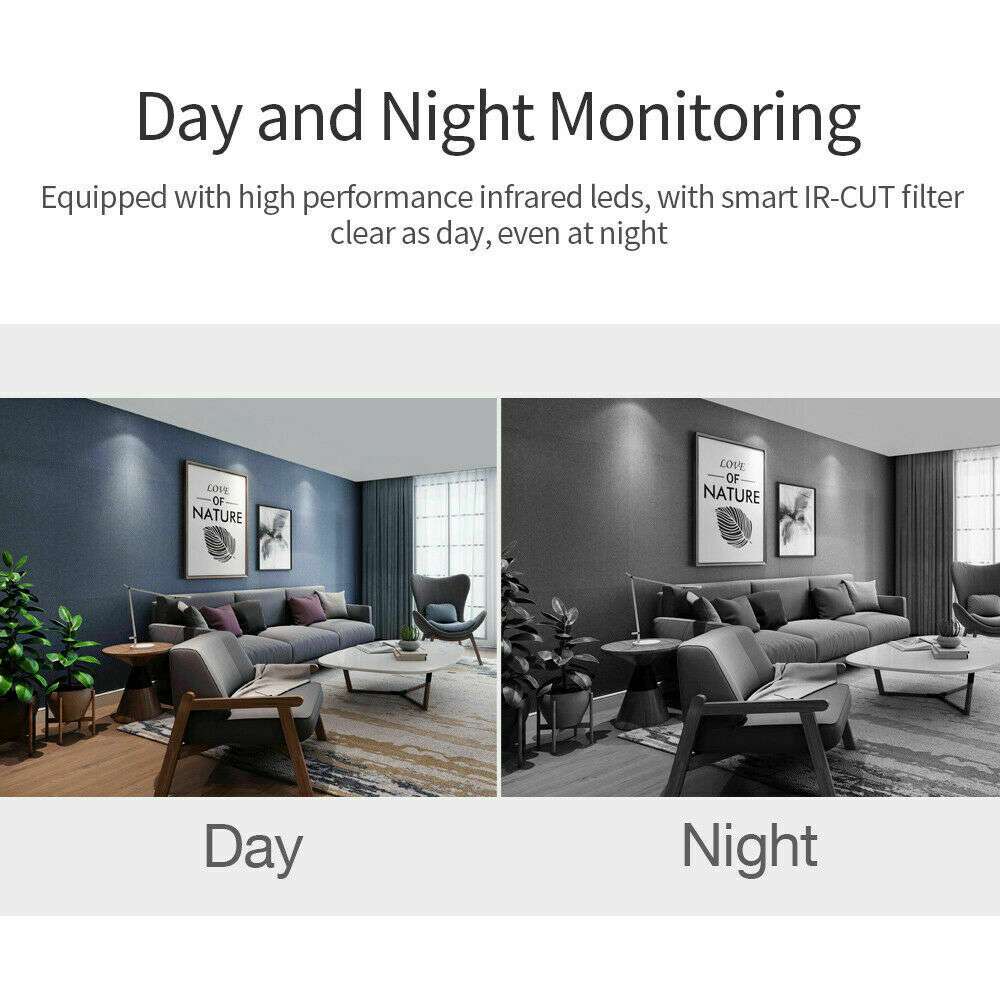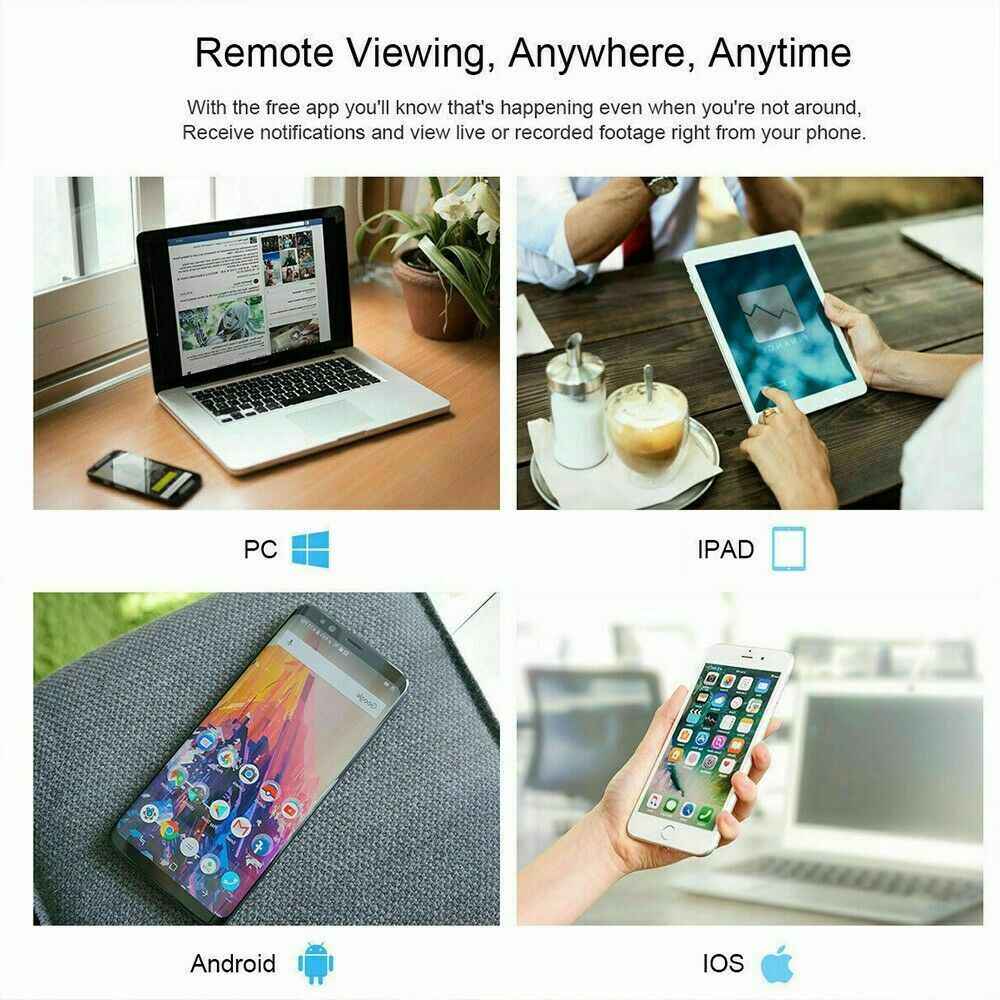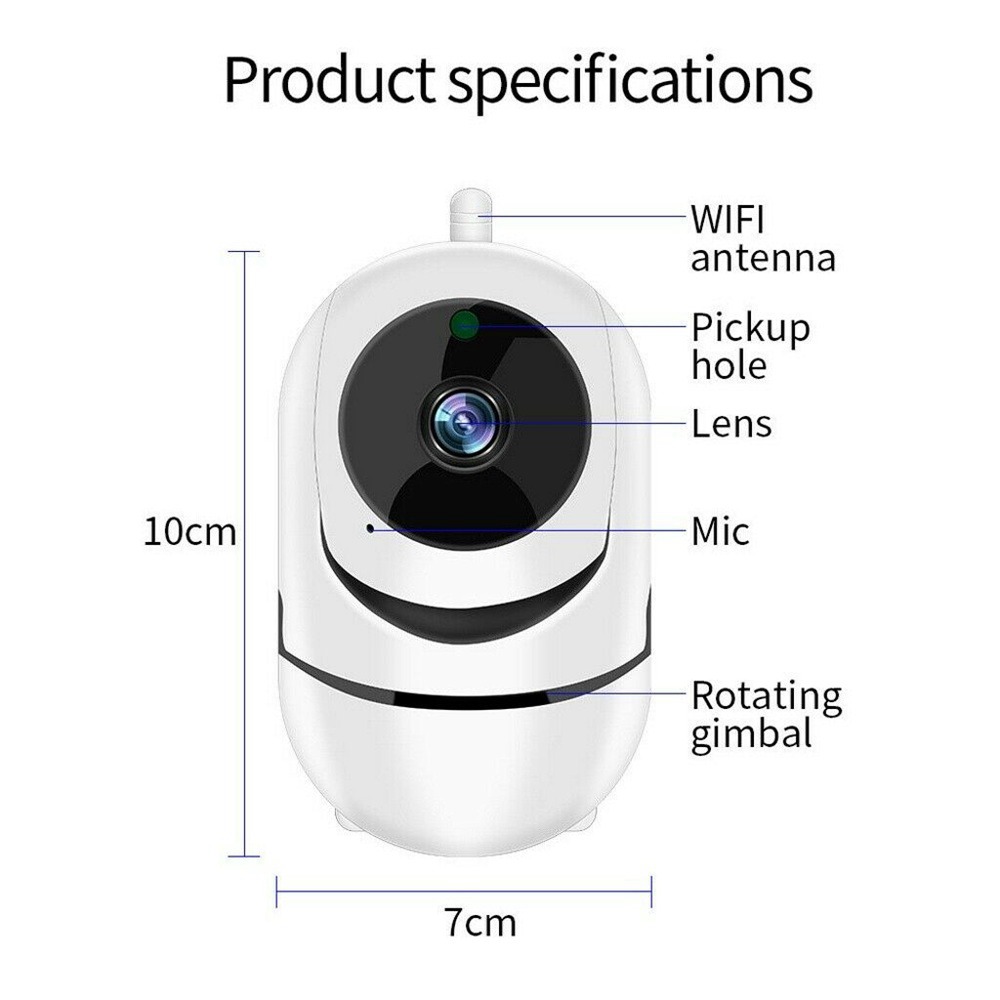 Specifications:
System Master Chip Processor: Industrial Embedded Microcontroller GK7102
Image sensor: GC2053
Operating system: Embedded Linux operating system
Video image sensor: 2 million / 1080P pixels
Image encoding standard: Smart H.264 +
Mobile Tracking: Support
Monitor image quality: 1920 * 1080/1280 * 720/640 × 360
Video quality: 1920 * 1080/1280 * 720/640 × 360
Image motion detection: support
Minimum illumination: 0.1LUX / F1.2
Capture function: support
Video Flip: Support
Audio coding standard: G.711
Microphone: support
Speaker: Support
Video Management Size of video file: 3G / day (16G TF card can be recorded for about 5 days)
Recording mode: manual recording, dynamic recognition recording, time recording, alarm recording
Save Video: TF Card \ Cloud
Remote playback: support
Alarm Trigger: Video Push, Speaker Alarm, Alarm Video
Network function Wired network connection: RJ-45 10-100 MB adaptive Ethernet interface (default setting does not need to be adjusted)
Wireless network: 802.11b / g / n
Codestream: double stream
Network Protocol: Supports TCP / IP, ONVIF, Private Cloud Storage, etc.
Transfer Mode: Intelligent P2P, Streaming Media Forwarding
WIFI network: adding device scan code, direct network connection (requires network connection), AP hotspot added
Expand IR-CUT: Support
TF Card: Supports up to 128GB TF Card
WIFI: support
Reset button: support
Power supply: DC 5V 1.5A
Power consumption: 5W
Environment Applicable places: houses, shops, schools, supermarkets, factories etc; flat, mounted on the wall, pulled up
Working temperature: 0 ° C to + 55 ° C
Working humidity: 10% -90%
Other lens: 3.6MM
Light panel: 6 lights
Bare Metal Size: 69 * 85 * 105 (mm)
Package:
1 x indoor camera
1 x power supply
1 x mounting accessories
1 x user manual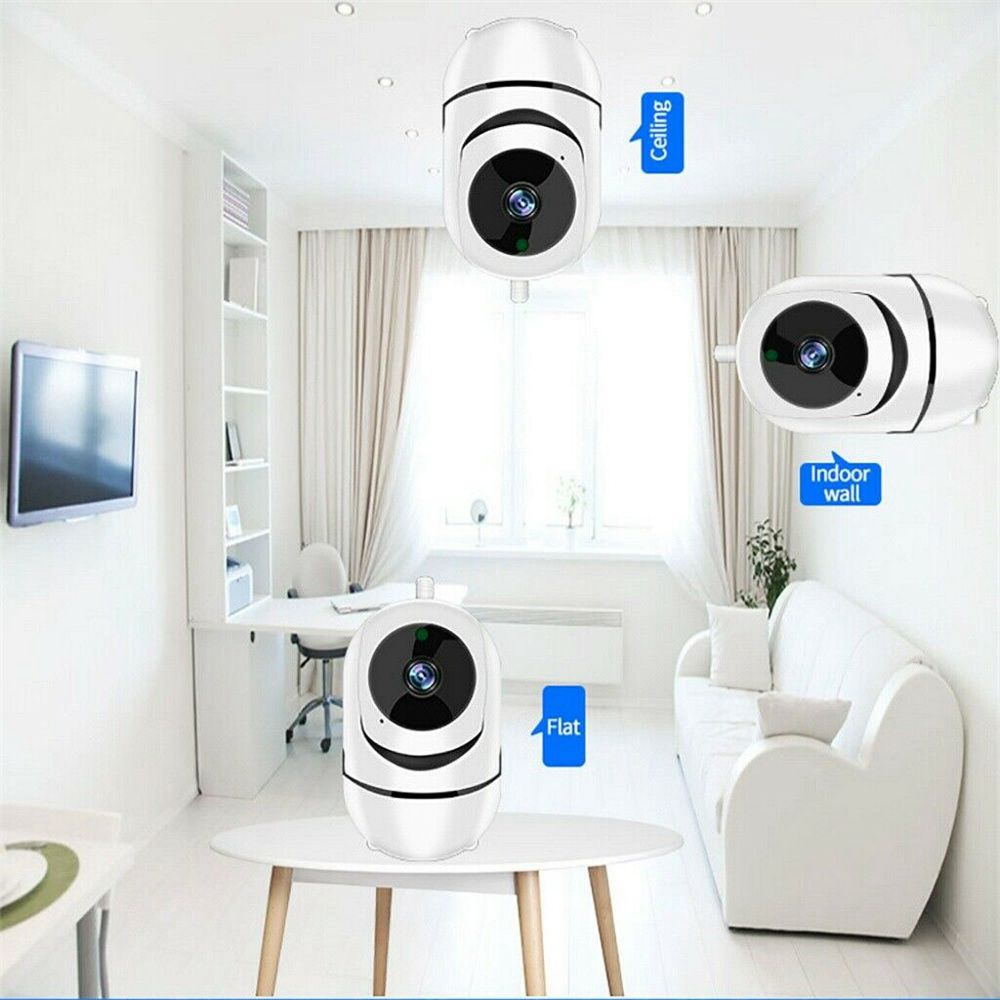 How to set up the camera
1. Download and install the application
A. Make sure your mobile devices are connected to the network correctly (Wi-Fi)
B. For users of Android phones, download the free application by sending " ICSEE" to the "Google Play Store" or by scanning qr code for the container for the camera.
C. For iPhone or iPad users, download the free app by sending " ICSEE" to the "app Store" or by scanning the qr code on the container for the camera.
2. Connect the Cloud IP Camera
A. Open the " ICSEE" application, register a new account or Log in to your old account
B. Add a camera device (you can choose four ways to add a camera)
C. When you add the camera, please place the camera in a place where the Wi-Fi signal is Stable (put your phone and camera closer)
Can't connect to wifi successfully?
1. Please make sure the wifi password is correct. (our camera only supports 2.4 GHz wifi)
2. Please make sure that the router signal is stable (put an IP camera next to your router for the first connection is recommended). The camera will not work on a 5 GHz wireless standard at this time. If you have a dual-band router, be sure to split the wireless channels and Connect the camera to the 2.4 GHz channel.
3. Please check that your wifi username and password do not have special characters, our camera can only recognize English letters and numbers.
Reset
Check the ip camera: Please make sure the ip camera sends a connection message after connecting. If not, you need to reset the camera.
1. Why Reset:
Reset is used to increase the IP camera system, which is becoming more efficient to accept an unknown router and connect it.
Reset will delete all user settings, including Wi-Fi information, access password, alarm information, security zone information.
2. Steps:
Locate the reset hole at the bottom of the device, and then use the insertion needle, press it for more than three seconds after hearing the "di" sound, listening to the "Reset to be defaulted Setting" sound, then reset the camera successfully.
3. After the reset, the user can start connecting it via wifi.
Frequently Asked Questions – Cloud Storage Wifi Camera
1) Need to buy Cloud Storage?
This camera has Cloud storage and the usual card storage capabilities, do not want to buy Cloud storage, you can insert an SD card for recordings.
2) what can we do when the camera is stolen?
Do not worry, the camera with cloud storage capabilities, the video stored on the cloud server, the camera was stolen, the video can be found using the cloud storage account.
3) Can the cloud storage camera simultaneously support recording for sd card and cloud storage?
Yes. Support for SD cards and cloud storage records at the same time if you put an SD card and purchase Cloud storage
4) what cloud service company do you use? It's free?
We use the Amazon cloud server. Yes, there is a long cloud service, everyone can use the cloud storage service for free, after which you can choose to pay for a service with a low price. but this service for free requires the buyer to contact the cloud customer service to help you open!
5) how to protect privacy from clouds?
Amazon cloud server, supports US-EU Safe harb and ISO / IEC27001: 2013, it is with high security certification
| | |
| --- | --- |
| Type | Surveillance Camera |
| Features | Automatic Motion Tracking, Night Vision, Wi-Fi, Zoom, IP Intercom, Motion/PIR Activated, Wall Mounted |
| Model | Camera |
| Color | White |
| Year Manufactured | 2021 |
| Warranty | 1 month |
| Material | Plastic |
| Item Weight | 0.290 kg |
| Power | 30 W |
| Power Source | Wall Plug-In |
| Department | Adults,All |
| Connectivity | Wireless, Wi-Fi |
| Maximum Resolution | 1920x1080 |
| Custom Bundle | No |
| Cable length | About 1 m |
| Storage Capacity | 128 GB (SD Card Not Included) |
| Location | Indoor Only |
| Surveillance Technology | IP/Network |
| Colour Mode | Colour Day, B&W Night |
| Number of Channels | 1 |
| Item Height | 10 cm |
| Item Width | 7 cm |
| Operating Range | 10 m |
| Number of Cameras Included | 1 |
| Voltage | 12 V |