Roll over image to zoom in
Click to open expanded view
Desk Digital Alarm Clock Weather Thermometer LED Temperature Humidity Monitor
$26.65 (-48%)
Order Now, You will Save
$12.84408095
SKU:
80106004
| | |
| --- | --- |
| Type | Thermometer Clock |
| Colour | black |
| Material | ABS Plastic Material (with LCD screen) |
| Theme | Calendar |
| Display Type | Digital |
Desk Digital Alarm Clock Weather Thermometer LED Temperature Humidity Monitor
Are you looking for a professional, yet affordable digital alarm clock?
Are you in search of a sturdy, trustworthy tool that can do multiple jobs at once?
If yes, look no further! Our professional clock must meet you needs. It is one of the best choices for you.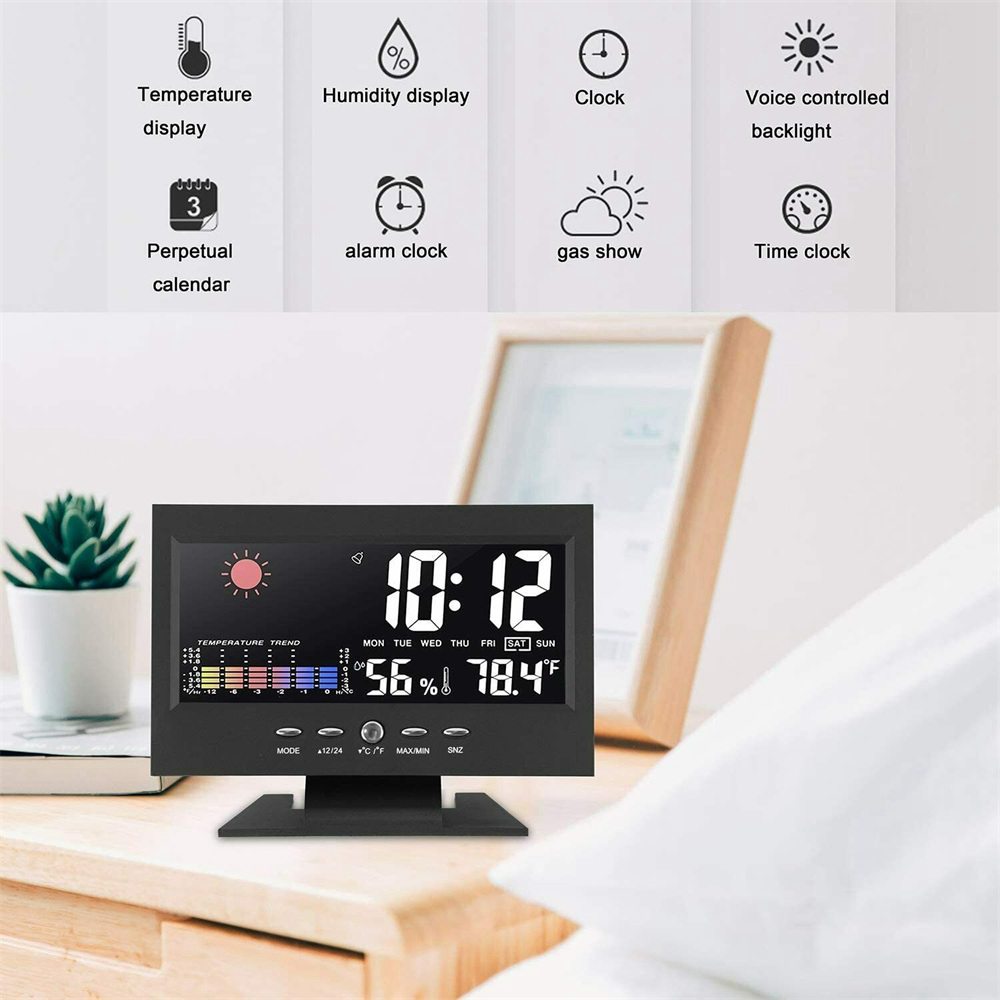 Product Description:
1. Wireless color weather: SMARTRO's easy-to-use digital thermometer has a color prediction icon, which can react to changes in air pressure in the past 12 hours, and can accurately predict the future weather in the next 12 hours. This wireless weather station with remote sensors uses 5 vivid icons to predict the weather: sunny, slightly cloudy, cloudy, rain and snow.
2. Indoor and outdoor thermometer and humidity monitor: SMARTRO wireless indoor and outdoor hygrometer displays time (12H/24H), date, day of the week, indoor/outdoor temperature and humidity, and recorded value (min/max) and customizable temperature Alarm (high/low)/away). The temperature is displayed in °F/°C. Indoor measurement range: 0°C (32°F) ~ 50°C (122°F). Outdoor measurement range: -22°C (-7.6°F) ~ 52°C (125.6°F). As a hygrometer, outdoor and indoor humidity display range: 20%RH~95%RH.
3. A 3-channel temperature and humidity meter with a wide range of applications: wireless transmission can display the readings of up to 3 outdoor remote sensors (including only 1 remote sensor) for multi-location monitoring. The transmission distance of the remote sensor in the open area can reach 60m/200ft. The digital hygrometer has a desktop design and can be conveniently placed in a baby's room, nursery, cellar, basement, warehouse or greenhouse.
4. Large LCD adjustable touch screen: Humidity monitor has a large LCD display and backlit touch screen, even in low light conditions, temperature and humidity monitoring is easy to read. When using the DC power adapter, you can adjust 4 kinds of brightness. When using battery power, the backlight will be fully lit after pressing the snooze button and will turn off after 10 seconds.
5. Sound-controlled backlight function: press the LIGHT button to turn on or off the backlight. You can also turn on the backlight by clapping your hands within 1 meter, or tap the table to turn on the backlight, and the LIGHT will turn off for 5 seconds.
6. Voice control & touch screen :You can open the account back light by tapping on the table, or touching any part of the body, or clapping your hands within 1m from the thermometer. The back light will automatically turn off after 5 seconds. The voice control function can be activated by the switch ?S/C? on the back.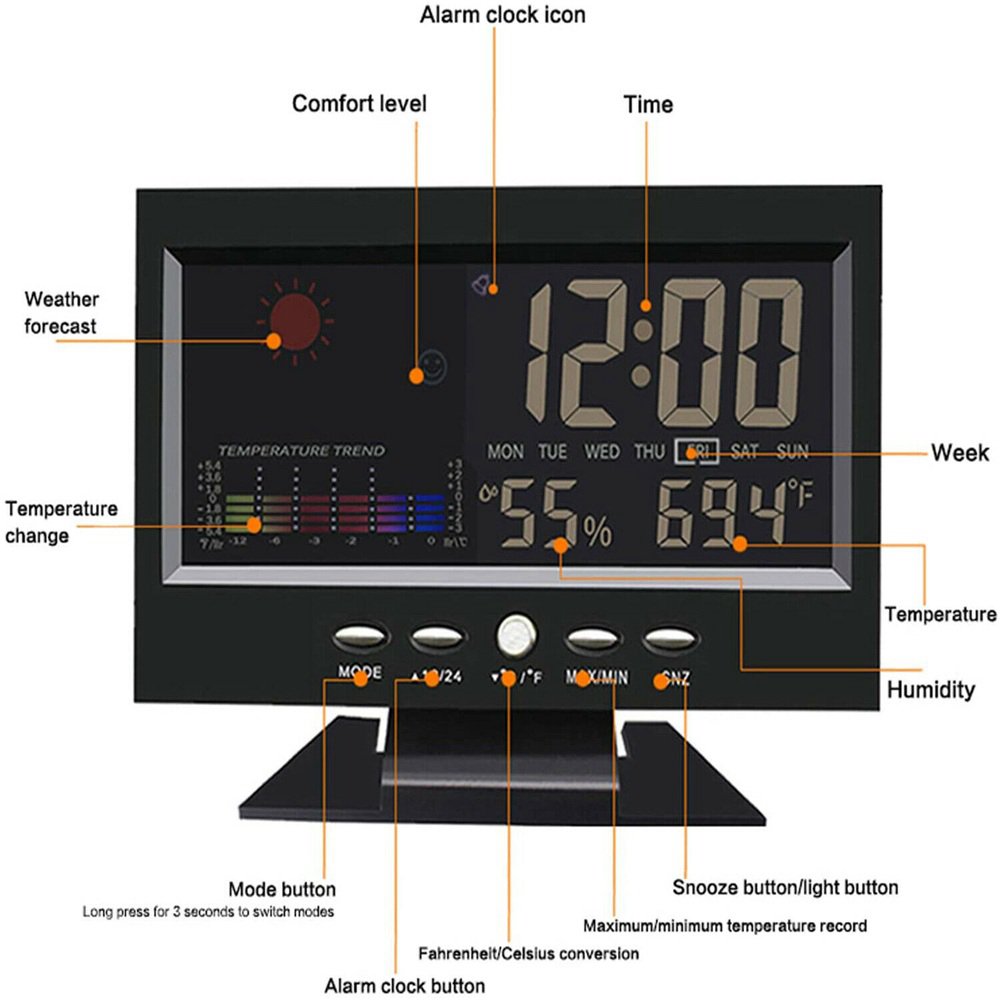 Specification:
Display Type: LCD
Display: Time/ Date/ Week/ Alarm/ Temp/ Humidity/ Weather/Snooze
Material: ABS Plastic Material (with LCD screen)
Color: Black
Size: 5.8*3.5 inch
Package Included:
1 x Weather Station Alarm Clock(batteries not included)
1 x English Instructions
Type
Thermometer Clock
Colour
black
Material
ABS Plastic Material (with LCD screen)
Theme
Calendar
Display Type
Digital
Number of Lights
36 LED

Mounting

Type
Wall Mounted
Microphone Type
Built-In
IP Rating
IP65
Solar Panel
5.5V 120mA 0.7w
Model
Wall Light
Light Source
SMD 2835*36pcs
Material
Plastic
Color Temperature
6500K-7000K
Year Manufactured
2021s
Manufacturer Warranty
3 Months