Roll over image to zoom in
Click to open expanded view
Facial Pore Blackhead Acne Vacuum Cleaner Remover Electric Skin Cleaner Care UK
$41.38 (-55%)
Order Now, You will Save
$22.86
SKU:
80401002
| | |
| --- | --- |
| Condition | New |
| Colour | White |
| Model | TC001 |
| Type | Cleanser |
| Skin Type | All Skin Types |
| Size | Travel Size |
| Features | 5 probes, Three Suction Levels |
| Power | USB Charging |
Facial Pore Blackhead Acne Vacuum Cleaner Remover Electric Skin Cleaner Care UK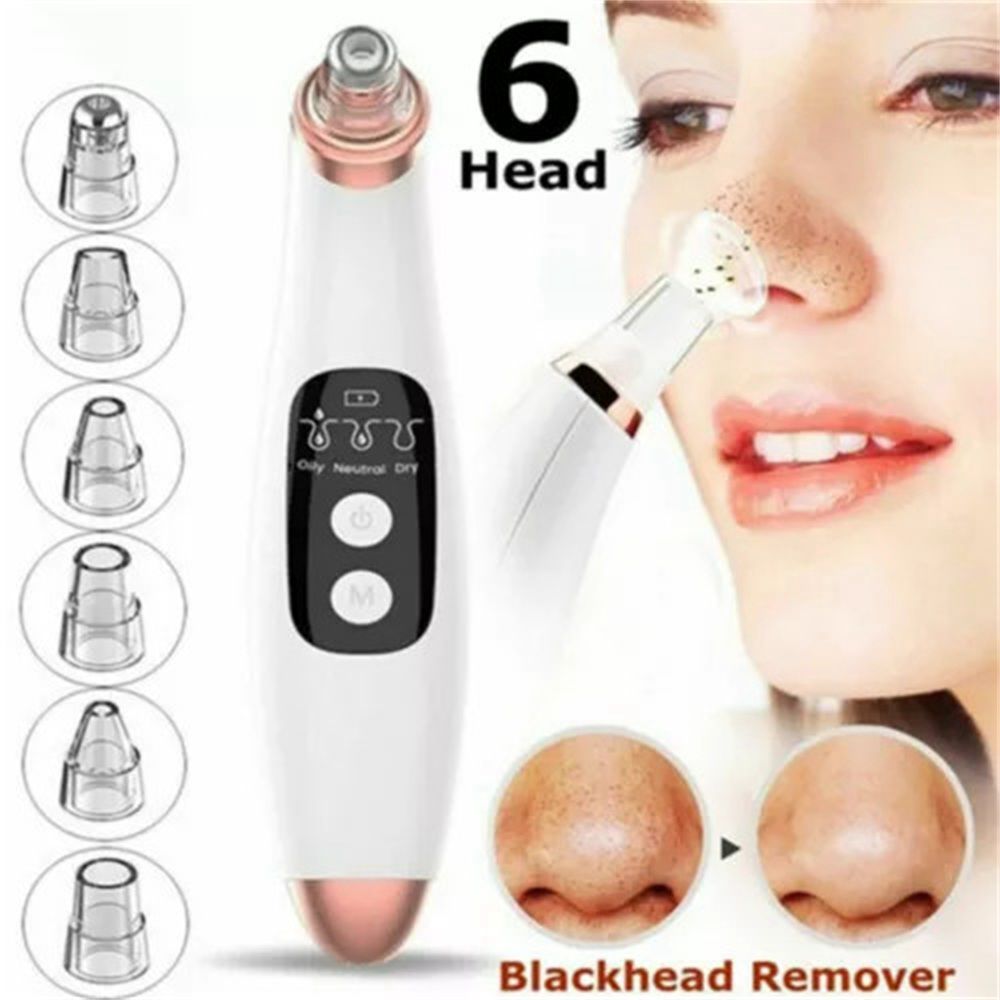 Genuine Deep Cleaning Design for All Facial Problems
Newly vacuum blackhead be of super-strong vacuum suction, can deep into your facial skin to help remove blackheads and clean pores to achieve genuine yet harmless facial cleaning The blackhead remover uses the latest technology, adding a high-definition lens to the vacuum , and you can clearly see the blackhead removal effect. AI intelligent algorithm, 3 suction levels, 5 replaceable suction heads, a suction power of up to 56 KPA,it can effectively remove the dirty inside the pores, quickly remove the excess oil in the blackheads and pores, deeply clean the pores, and make the pores delicate and firm.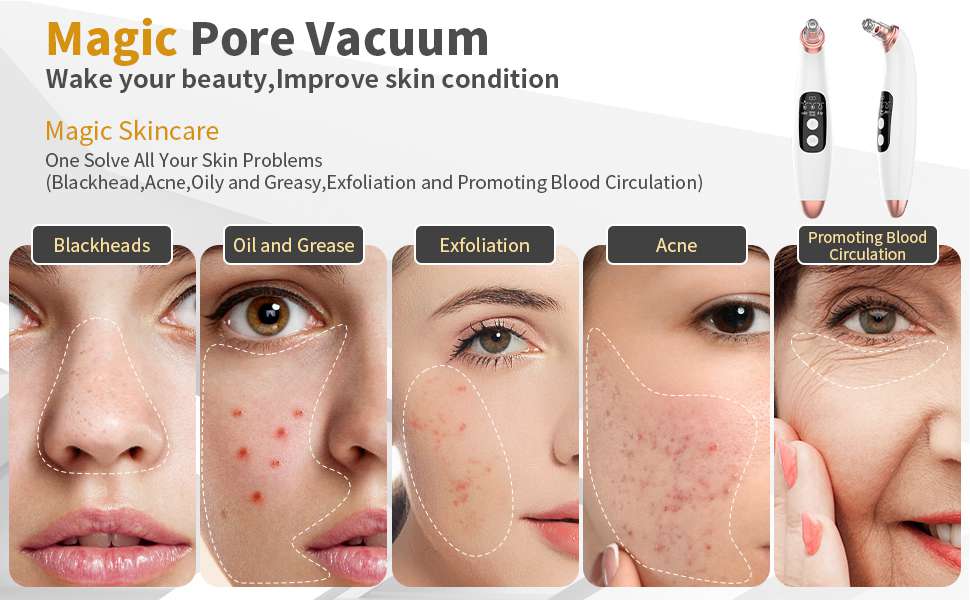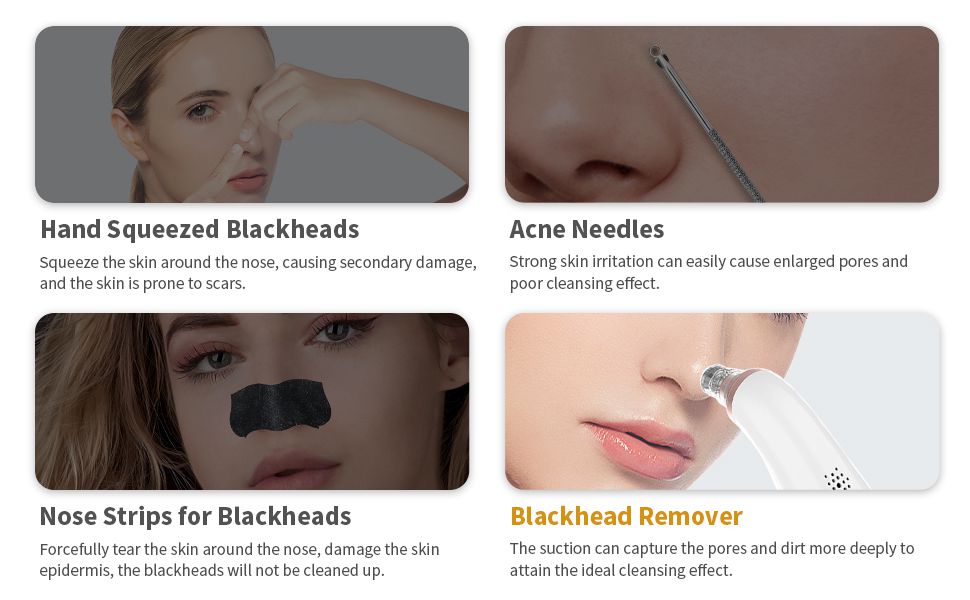 [Safe and Effective]: According to scientific data, this blackhead remover can effectively remove 90% of acne and blackheads. Compared with traditional methods, the blackhead vacuum cleaner adopts intelligent constant force technology and air pump technology, which can clean skin without damaging or restoring skin elasticity, clean pores safely, remove blackheads, acne, and does not contain any chemicals substances, thus effectively improving facial skin problems and making facial skin smoother.
[Multifunctional and Professional]:The pore vacuum cleaner is designed for various skin types. 6 suction probes and 3 suction power. 6 replaceable probes, a large-size probe for the cheek, and a small-size probe for the nose, to meet the selection needs of different parts; 3 suction power to ensure that the pore cleaner is suitable for all skin types. (dry, normal,oily skin), suitable for different skin conditions: cleaning blackheads, acne caused by leaving dirt oil and cosmetics on the skin.
[Rechargeable and Portable]:This blackhead vacuum cleaner has a built-in USB rechargeable battery, which can check the suction and battery power on the LED display.Please use USB to charge in time, so as to ensure the normal work of the cleanser.Only 0.27 pounds, you can take it with you when you travel.The main color is white, inlaid with fashionable colors, and it is low-key luxury.It's a very good gift for family and friends, and having beautiful roses will be a surprise.
[Instructions for Use]:
Step 1: Wash your face with a foam cleanser.
Step 2: Please steam for 3-5 minutes with a face steamer or a hot towel to open the pores.
Step 3: Apply blackhead remover, gently place it on the part to be treated, and move it in one direction along the face.
Step 4: Apply the mask. Tips: To avoid scratching your face, please do not stay at a point for more than 3 seconds.
If you have any questions, please feel free to contact us and we will do our best to help you.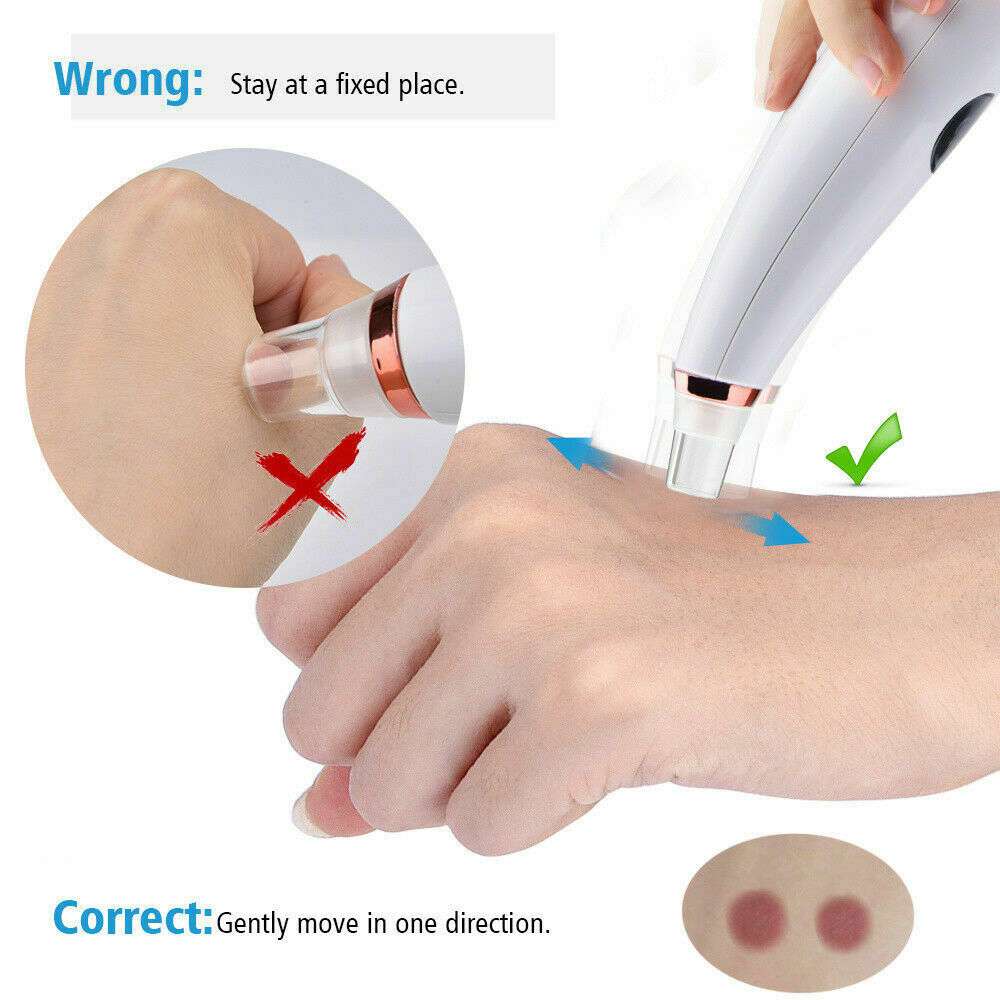 Before Vs After
Removing blackheads needs powerful suction, but too much powerful suction will cause skin damaged. Our blackhead remover is the most suitable one after thousands of experience and calculation since it can remove blackhead without cause skin damaged.
Warm tips for the best blackhead remove
1.Don't stay one place too long to prevent from purple and red skin
2.Dry skin can use it once a week,oily and mixed skin can use it twice a week
3. After the skin care is finished, the skin surface will have a slight irritation and redness, which is normal and will subside on its own in about 30 minutes. Please do adequate skin protection;
4. Not recommended for pregnant women, children, patients with skin diseases and people who have undergone facial cosmetic procedures;
5. Sensitive and fragile areas such as danger triangle, eye corner, eyelid are not recommended.
Packing list
Visible Blackhead Remover Vacuum * 1
Tips*5
USB Cable*1
Product Instruction*1
| | |
| --- | --- |
| Type | Cleanser |
| Features | 5 probes, Three Suction Levels |
| Model | TC001 |
| Color | White |
| Year Manufactured | 2021 |
| Warranty | 1 month |
| Material | ABS |
| Item Weight | 0.183kg |
| Department | Unisex |
| Size | Travel Size |
| Skin Type | All Skin Types |
| Main Purpose | Rosacea, Clogged Pores, Blackheads, Acne |
| Custom Bundle | No |
| Power | USB Charging |
| Working Time | About 2 Hours |
| Charging Time | About 1.5 Hours |