Roll over image to zoom in
Click to open expanded view
Olive Oil Sprayer Cooking Mister Dispenser Spray Bottle Kitchen 210ml Cooking
$8.47 (-42%)
SKU:
| | |
| --- | --- |
| Color | Black or White |
| Type | Spray Bottle |
| Material | Plastic |
| Item Height | 20.5cm |
| Item Width | 6cm |
| Warranty | 3 month |
Olive Oil Sprayer Cooking Mister Dispenser Spray Bottle Kitchen 210ml Cooking
– Indoor and outdoor oil spray device
– Our injector dispenser, your home and kitchen assistant
–Multi-purpose
* Unlike other fragile glass bottles, they are light, strong, and tough, so there is no need to worry about breaking! The perfect kitchen tool for homes and kitchens. Fill this sprayer with your favorite oil, sunflower oil, vinegar, soy sauce , lemon and lime juice, sherry or Marsala.
* Widely used when making barbecues, steaks, and salads; used for frying, baking, baking, air fryer, cooking, picnics, and parties. Fill it with olive oil, wine, lemon juice, vinegar, water, etc.
* Very suitable for household cleaning, cleaning, home decoration, car cleaning and garage cleaning. It can also be filled with daily care water for easy carrying!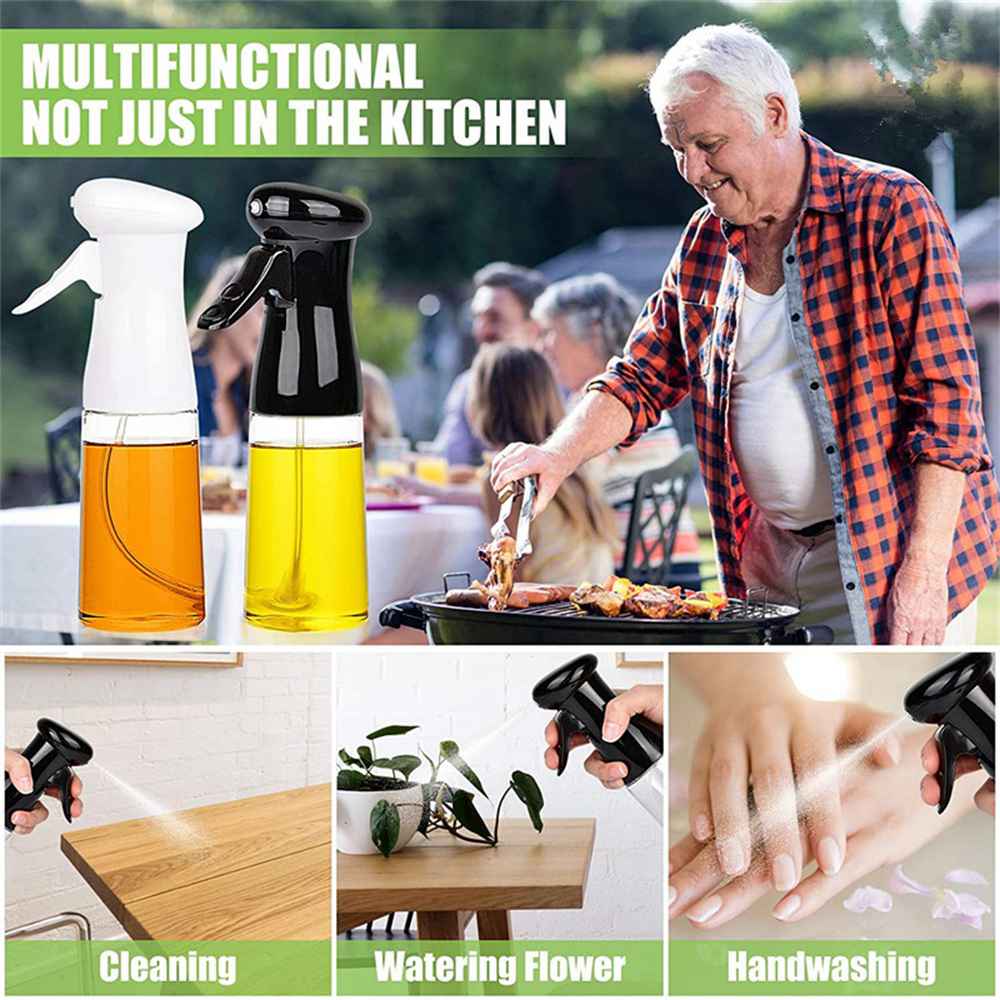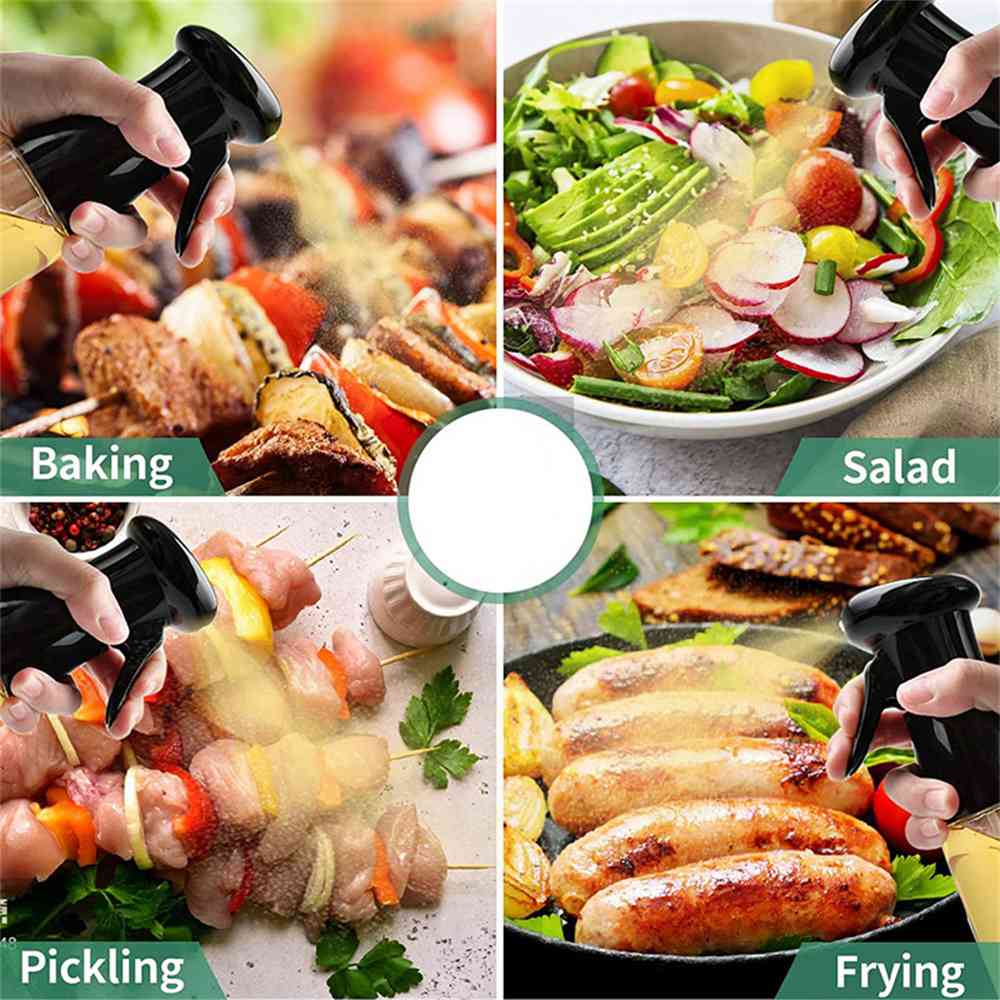 product description:
1. [Upgraded nozzle saves spray oil and ergonomic transparent design] The sprayer can help you reduce calories, improve taste, and stay healthy. Atomized spray, fine mist and save oil. Unlike other products, oil sprayed in the form of water jets cannot accurately spread the oil on the surface of the food, which is likely to cause waste and is not conducive to controlling the amount of oil. The transparent design can help you refer to different food cooking methods to grasp the oil usage.
2. [Multifunctional, easy to use and powerful suction] The kitchen sprayer tool can be used to fill olive oil, edible oil, sunflower oil, lemon, lime juice, sauce, sherry or wine, etc. Used for cooking, making salads, grilling, baking, baking, frying, etc. It can also be used as a cooking or housework tool with water, vinegar, soy sauce, etc. Note: The mist effect will be affected by the distance and consistency of the filled liquid. Do not put heavy oil in the dispenser.
3. [210ML large-capacity baby bottle, light and easy to clean] Color: black + white, size: (210ml) can be used in the kitchen or outdoors. Just pour warm water and detergent into the bottle, then tighten the cap and shake it. After repeating 2-5 times, you will get almost new attractive bottles! Note: Do not wash in the dishwasher, and the water temperature cannot be higher than 122°F / 50°C.
4. [100% Satisfaction Guarantee and High Quality Guarantee] The fuel injector is made of food grade PP and PET. No BPA, 100% food grade, environmentally friendly. The non-slip design is very compact and will not slip off. Unlike other fragile glass bottles, they are light, strong, and tough, so there is no need to worry about breaking!
5. [Safe leak-proof seal lock and large opening for easy refilling] Reusable kitchen tools. The large opening makes it easy to fill without a funnel. The specially designed lock will tightly seal the bottle to prevent leakage. Starting from controlling oil, healthy food can be made with less oil. If you need kitchen tools to help you control oil to keep your body healthy, please try our sprayer instead of pouring mist oil to reduce calories. Efficient use, no waste. Improve taste and healthier!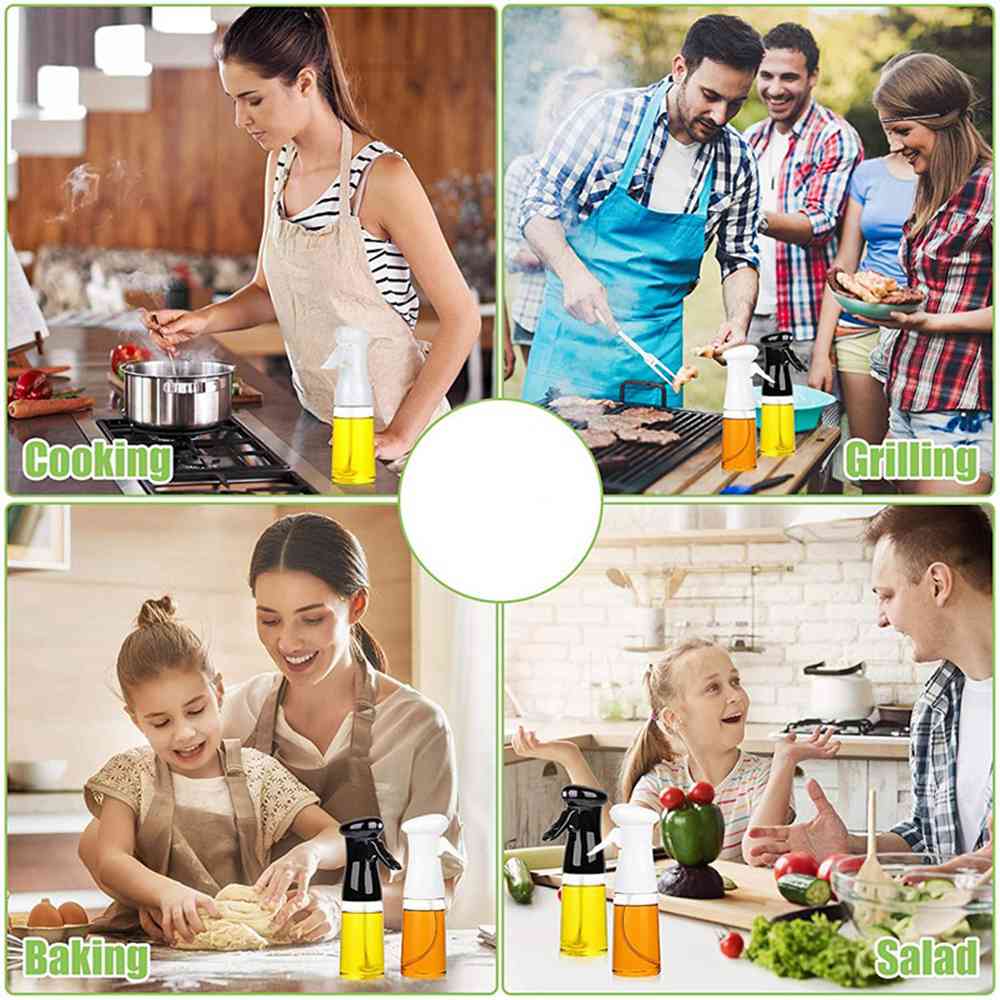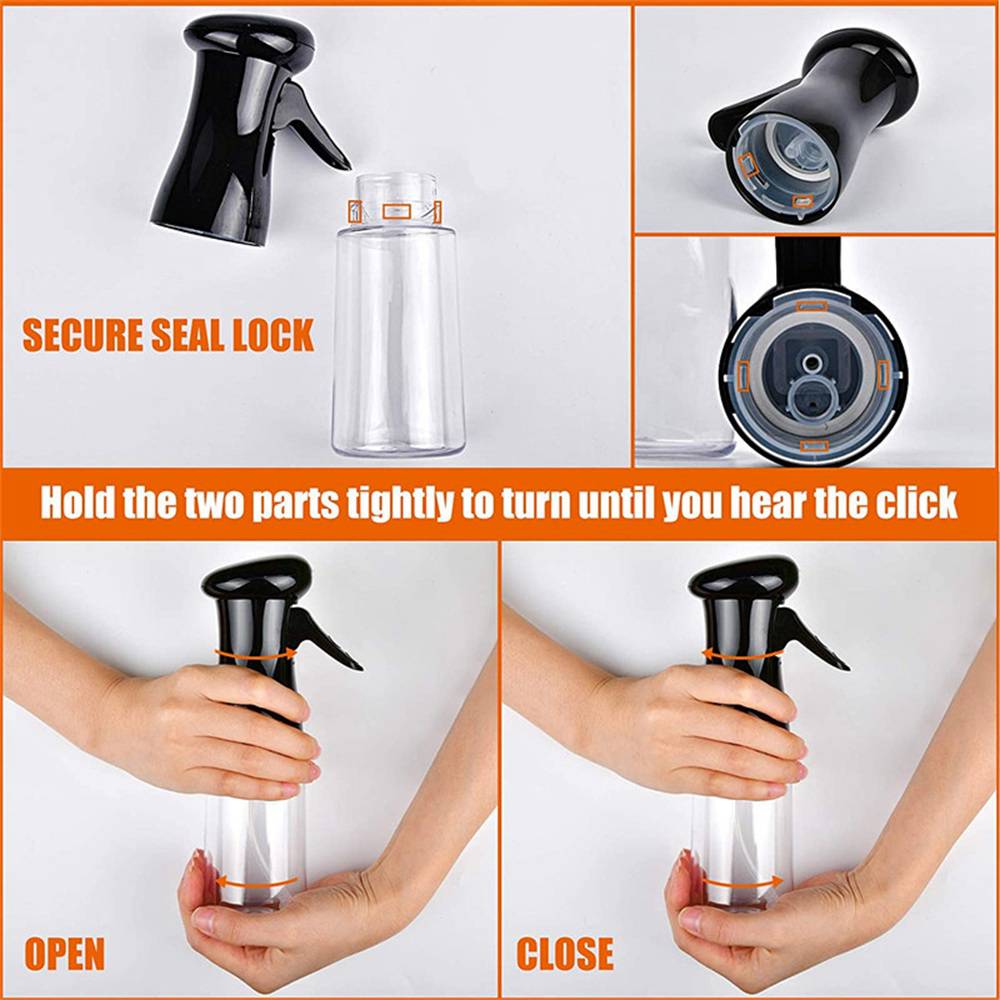 EASY TO USE & BEST HOME & KITCHEN TOOL
1. Simply press the pump of a sprayer to produce a more uniform spray and control the amount of oil when cooking.
2. The transparent bottle makes you know clearly how much oil is left.
3. You can clean the bottle easily, just unscrew the lid and rinse it with some detergent & warm water!
Product Detail:
Product size ?20.5 X 6 CM
Product weight: 8.8kg
Package include: 1 X Oil Sprayer Bottles (Black/White)
Product material: 100% Food grade spray bottle, perfect for spraying ingredient.
| | |
| --- | --- |
| Color | Black or White |
| Type | Spray Bottle |
| Material | Plastic |
| Item Height | 20.5cm |
| Item Width | 6cm |
| Warranty | 3 month |