Roll over image to zoom in
Click to open expanded view
Silicone Cake Kneading Dough Non Stick Baking Mat Pastry Rolling Dough Pad
$10.03
SKU:
New-00023
| | |
| --- | --- |
| Condition | New |
| Colour | Blue,Pink |
| Features | Easy to Clean, Non-Stick |
| Material | Silicone |
| Type | Rolling Mat |
Silicone Cake Kneading Dough Non Stick Baking Mat Pastry Rolling Dough Pad
Description:
It makes the preparation of pastry and dough a pleasure to carry out without the downside of mess and excessive clean up on completion.
This non-stick silicone rolling mat will make cooking and baking more productive. It is a perfect gift for housewife and cooking enthusiasts

Feature:
HIGH QUALITY – 100% food grade silicone (FDA approved and BPA free) and the lifetime can be several years. The fondant rolling mat is 19"×15" (50*40cm) and 0.3" (0.8cm) thickness. Maximum working temperature is 230°C(446°F)
NON-STICK – The silicone pastry mat is non-stick and the release is also good so you don't need any flour. This is a really non-stick pad for making cookies, macarons, bread, and pastry. It will make cooking and baking more productive
NON-SLIP – The silicone sheet with the great friction on the back grips the countertop well. It is super hard to move as you roll out the dough and always keep stable on the table
EASY CLEAN & STORE – Simply wash the silicone baking mat with water or place in the dishwasher to clean. It can be stored rolled up or folded, occupying minimal space in a drawer or cupboard
Silicone baking mat is made of fibreglass mesh and food grade silicone, even if grease or dough sticks to the surface, pastry mat can be easily cleaned to keep countertop clean.
Silicone Baking Mat foolproof size guide will give even the least experienced novice bakers the confidence to make, rollout and cut the perfect Pizza, pie crust. The measurement design of this mat is so convenient. You can use it to make food of different sizes accurately.
Non-Stick Silicone Baking Mat lays perfectly flat and won't curl around the edges. Great friction on the back and grips the counter top well.It is super hard to move as you roll out the dough and always keep stable on the table.It is also perfect to be pastry mat, counter mat, pizza mat, placement mat, kids mat and so on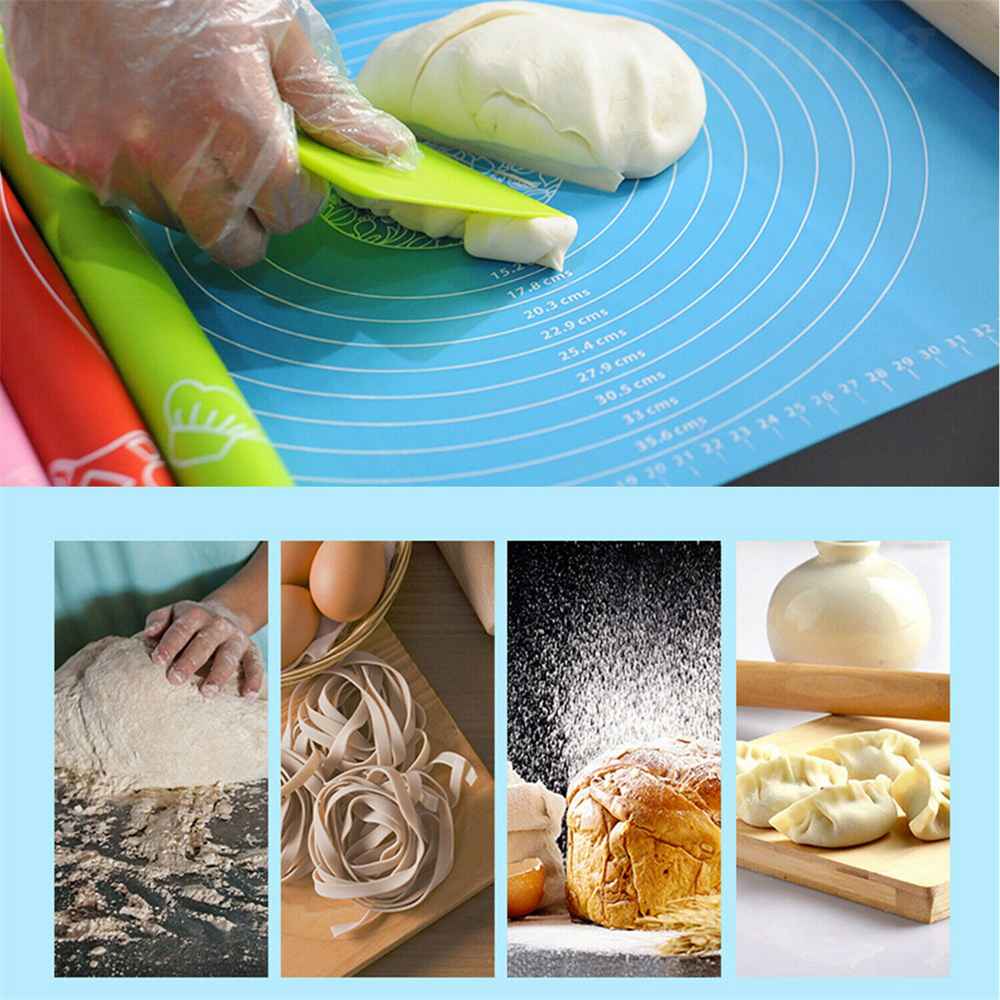 SPECIFICATION
Material: 100% food grade silicone
Size: 19×15 inch (50*40cm) and 0.3 inch (0.8cm) thickness
Temperature Resistant: from -40°C to 230°C (-40°F to 446°F)
Color : blue,pink
Size : 50x40cm
Used in oven, microwave or refrigerator, etc
Forceful adsorption function ,it can not move freely
Suitable for small cake, pudding, jelly, bread, curtain,pizza etc
Nonpoisonous and harmless, no peculiar smell ,soft silicone material so that space-saving
Can be repeated use, novel appearance, texture soft, easy mold release,
non-stick surface, convenient cleaning.
Package Included: 1 pcs kneading mat (Blue/Pink)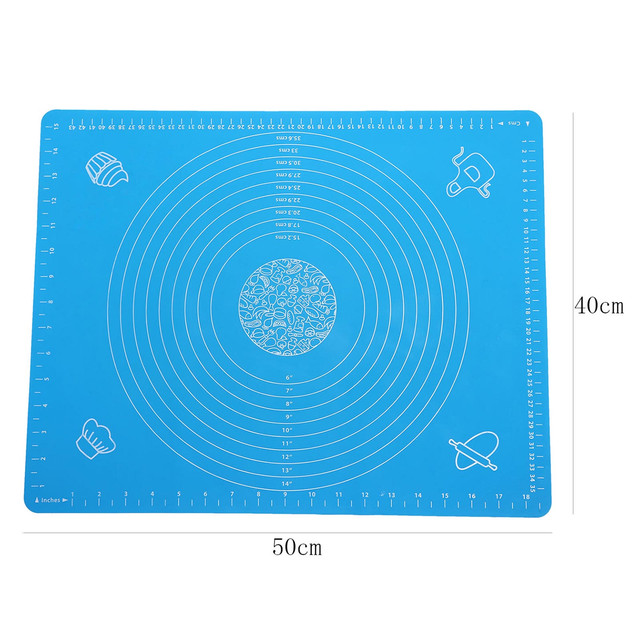 TIPS
Do not use with sharp objects or as a cutting surface
Do not expose directly to open flame
Dry thoroughly after washing
Note : No retail packaging for save the cost and protect to the environment.
| | |
| --- | --- |
| Type | Rolling Mat |
| Features | Easy to Clean, Non-Stick |
| Style | Modern |
| Color | Blue,Pink |
| Year Manufactured | 2021 |
| Warranty | 1 month |
| Material | Silicone |
| Item Weight | 0.2 kg |
| Number of Items in Set | 1 |
| Resistance temperature | -40℃~+220℃ |
| Room | Kitchen |
| Used in | Oven, Microwave, Refrigerator |
| Shape | Rectangle |
| Size | 50 * 40 cm |
| Surface Coating | Non-Stick |