Roll over image to zoom in
Click to open expanded view
Snore Stopper Sleep Connection Anti Snore Wristband Bracelet Device Stop Snoring
$23.39 (-43%)
Order Now, You will Save
$10.130843352
SKU:
80104002
| | |
| --- | --- |
| Type | Anti-Snoring Wearable |
| Colour | black |
| Suitable For | Unisex |
| Material | Plastic |
| Unit Quantity | 1 |
Snore Stopper Sleep Connection Anti Snore Wristband Bracelet Device Stop Snoring
No need to place anything in or on your nose! This natual uninvasive technoligy is the solution to all your snoring problems!
Unique detects designed biosensor for automatically snoring.
Utilizes the body"s natural biofeedback mechanism by stimulating the nerves in the wrist area.
Nerve stimulation trains the user to reflexively reduce snore frequency and volume, users experience no harmful side-effects, non-invasive method.
Stimulation does not disturb or wake the user from normal sleep. -Wristband designed for maximum comfort and convenience.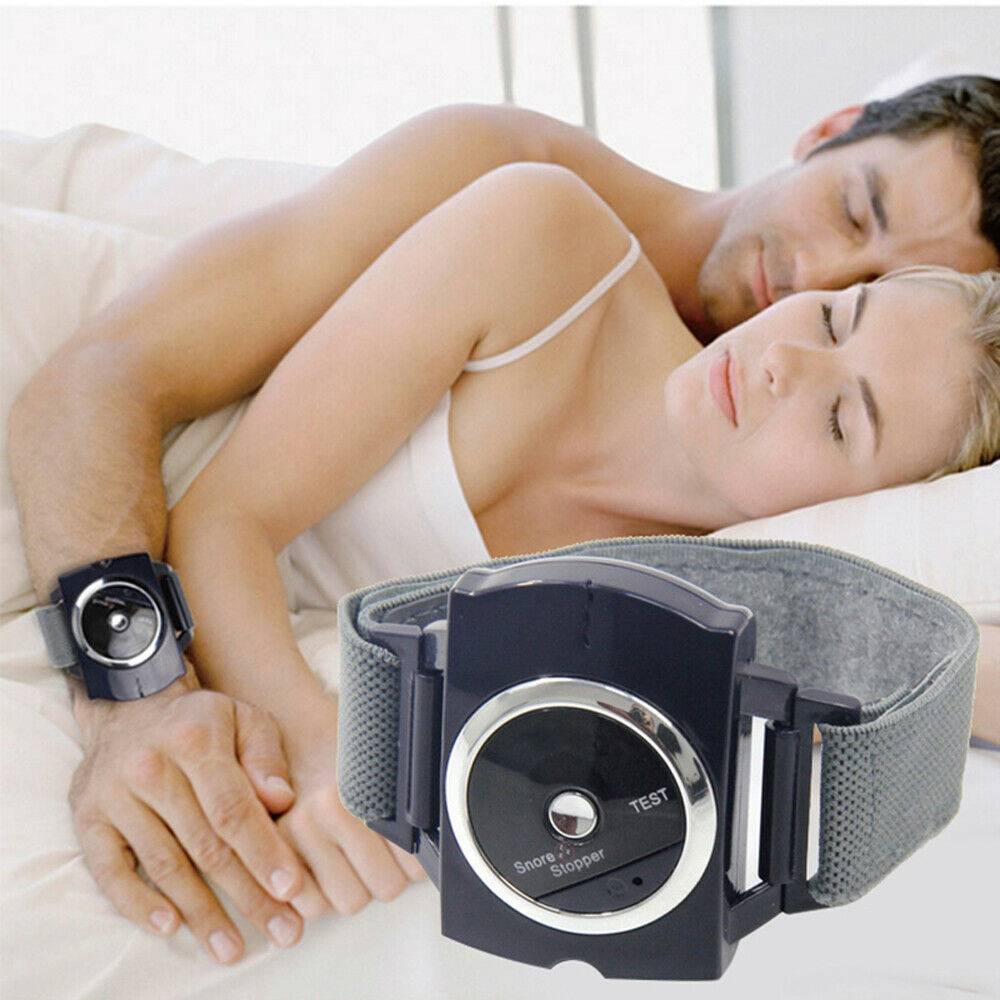 Description:
*100% brand new and high quality*
-NEW DESIGN-
Fashionable watch-shaped design.Simple and Durable anti-snore watchband with a comfortable bracelet strap, which is safe and breathable, seven-speed function, automatic operation easy to use, improve the quality of sleep.
-BETTER SLEEP-
Scientifically engineered help you sensor detect dyspnea and stop snoring, healthy and simple way to provide snore relief. Gives you and your pillow person a better sleep.
-WORK PRINCIPLE-
The anti snore device stimulate the body's natural biofeedback mechanism by the nerves in the wrist area, When three consecutive loud snores are detected, it sends out a very gentle electrical wave to the snorer, makes the snorer reflexively stop.
-CONVENIENT-
the wrist watch is easier to use and not tight, breathe more freely. Not affect normal sleep if any buttons pressed while sleeping. Automatic power-off after 8 hours of activation.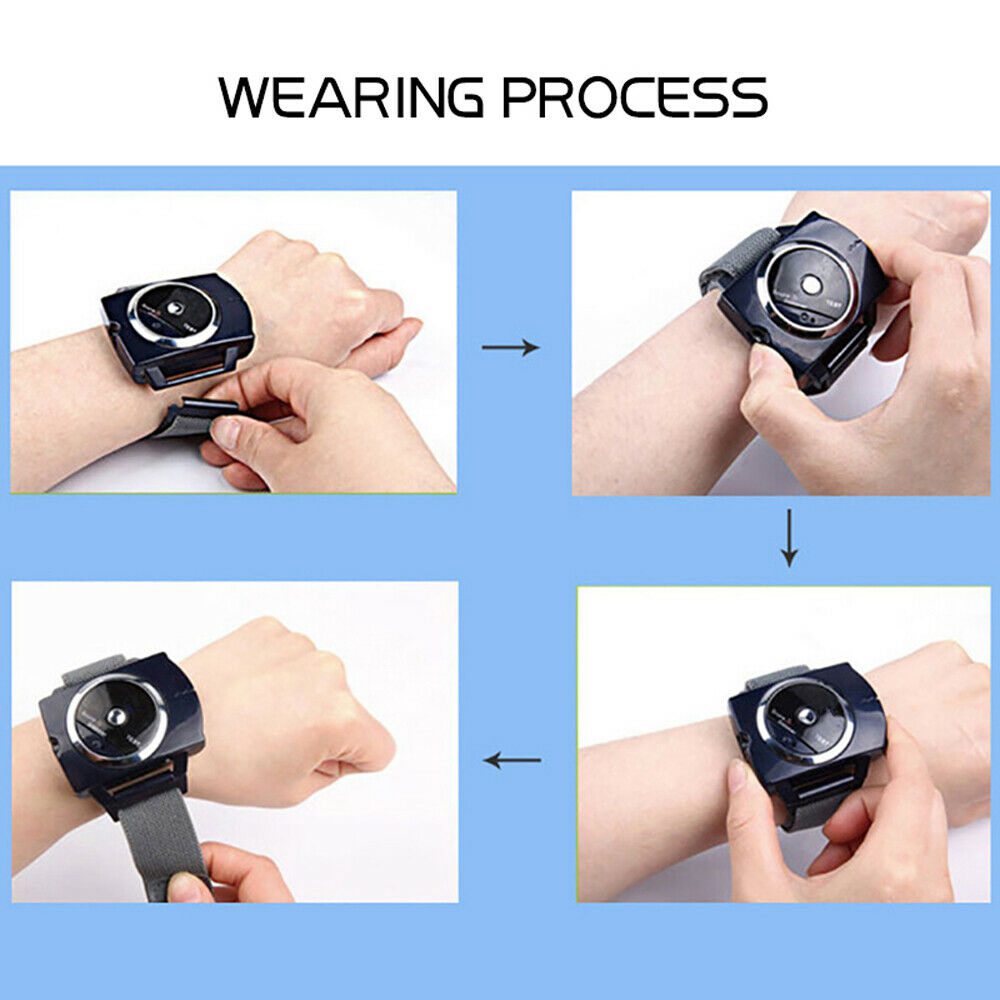 Advantage
1. Fashionable figuration.
2. Automatic power- off after 8 hours of activation.
3. Gentle pulse without disturbing normal sleep.
4. Not affected by any unconscious press on the button while sleeping.
5. Absolutely no side effects.
Package includes
1x Snore Stopper
1x Wrist Band
1x Self-Adhesive Electrodes
1x User Manual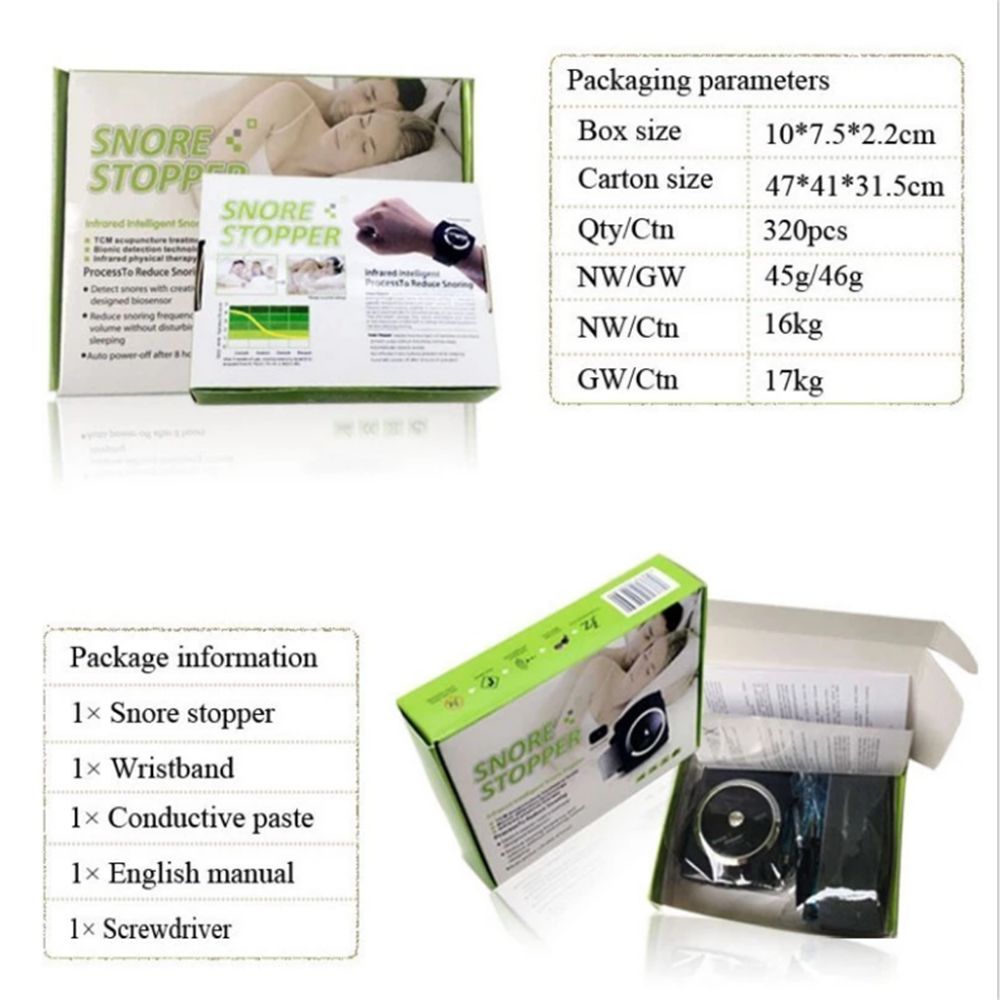 | | |
| --- | --- |
| Type | Anti-Snoring Wearable |
| Colour | black |
| Suitable For | Unisex |
| Material | Plastic |
| Unit Quantity | 1 |
| Automatic Power Off After | 8 Hours |